Slow Cooked Lamb Shanks Australian Style
Derf2440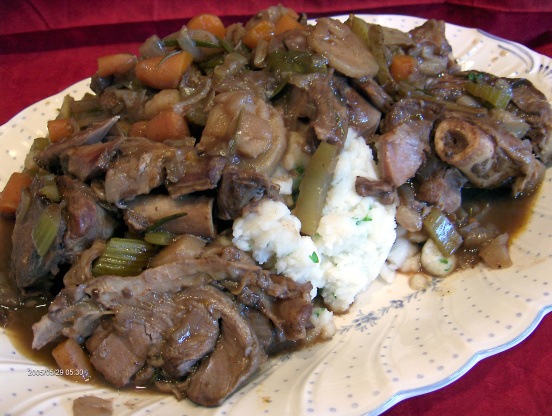 I love this recipe because I can make it the day before, it uses traditional and easy to grow herbs fresh from the garden and the vegetables are not exotic. Everyone seems to have their own version of this dish, but I think mine is special. I make for Sunday when we have neighbours round for a bottle ( or two) of wine and a casual lunch, so I can cook it slowly the day before and reheat it on the day. Because of slow cooking the vegetables melt and create a wonderful sauce. The meat falls off the bones. Keep it topped up with liquid while slow cooking. A real favourite on a winters day.

Loved it! I used 3 lamb shanks so, I halved the recipe. But when it came to the wine I forgot and added the full amount..oops! But it turned out great! I didn't have mint so I put mint jelly over the shanks. Also left out paprika and bay leaves, because I couldn't find them either..(I just moved, still unpacking). However, everyone loved it. I will make this many times over.
Sweat the onions in oil an ovenproof casserole or crockpot.
Add carrot, parsnip, celery and mix.
Put flour, pepper, paprika in a paper or plastic bag and add lamb shanks one at a time, shake to coat.
Place the coated shanks in the casserole or pot on top of the vegetables.
Combine stock and wine and pour around the shanks covering them completely.
Place Rosemary, Bay and Mint on top of the meat.
Cook slowly in the oven for at least 3 hours at a temperature of about 160C the longer the better.
Top up with stock or wine if necessary.
To serve, remove the herbs and discard; serve on a plate with mashed potato and a good bottle of wine.