Slow Cooked Beef and Red Wine Ragout
loof751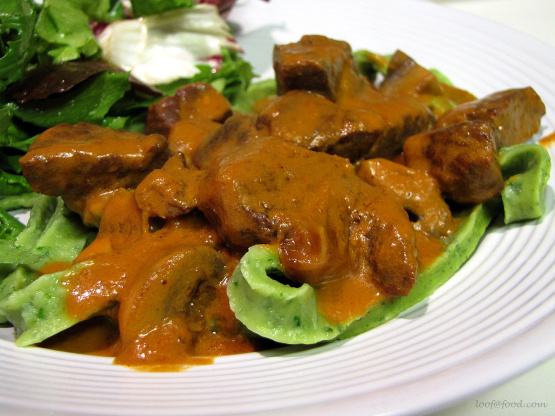 From a free cook book issued by Philadelphia (upon the purchase of 3 of their items). I'm hoping to make this in our winter (though a half recipe for 3 when the DH is on night shift due to his allergy issues with onions). Recommend you serve with cooked pasta.

Rich, creamy and delicious! I couldn't find pickling onions so just used large chunks of yellow onion, and had a few big mushrooms that needed using so threw them in the mix as well. Served over spinach pasta and really enjoyed - thanks for sharing the recipe!
Heat half the oil in a heavy based saucean and cook the onions until browned and set aside.
Heat remaining oil and brown beef in batches and set aside.
Add garlic and tomato paste and gently cook for 1 minute.
Return beef to saucepan and add stock and wine and bring to the boil, reduce heat and cover and simmer for 1 1/2 hours stirring occassionally and then add the onion and cook for a further 20 minutes.
Whisk together the cream cheese with some of the cooking liquid until smooth and add to the saucepan and simmer a further 10 minutes.
Spoon onto serving plates over the pasta and serve immediately.