Slow, Comfortable Piquant Pork and Bacon Cassoulet (Crock Pot)
loof751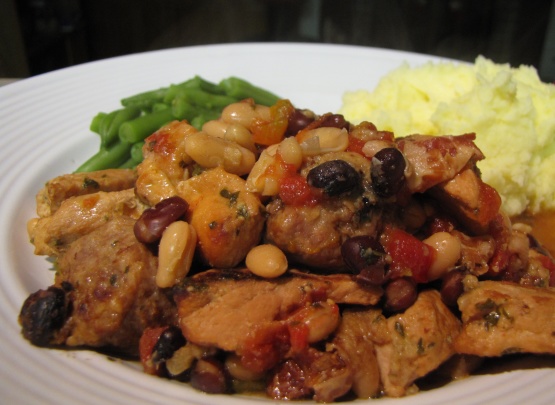 A delicious and comforting combination of beans, bacon, pork, chopped chili tomatoes and herbs. This hearty cassoulet type casserole bubbles away in the crock pot/slow cooker whilst you are busy or at work. Serve this with a tossed green salad and cornbread for a complete meal; alternatively, this is wonderful during the winter months served with steamed greens and piles of mashed potatoes.

My DH and I didn't really cotton to this dish. Just personal preference, I guess. Thanks for sharing, though.
10

ounces pork loin, cut into 1 cubes

8

thick pork sausages, cut into large chunks

6

slices streak bacon, chopped

1

medium onion, peeled and chopped

4

garlic cloves, peeled and chopped

1

tablespoon herbes de provence
salt & freshly ground black pepper, to taste

10

ounces canned great white navy beans, drained and rinsed

10

ounces canned black beans, drained and rinsed

2

(10 ounce) Rotel tomatoes & chilies

2

ounces soft breadcrumbs
chopped fresh herb, such as parsley and thyme (to garnish)
Preheat the slow cooker on high. Place the pork in a frying pan and heat gently until the fat begins to run out. Add the chopped bacon and sausages then brown all over for about 3 to 5 minutes. Remove all the meat from the pan.
Add the onion to the pan and fry for 3 minutes, then add the garlic and fry for a further 2 minutes. Add the seasonings and the herbes de Provence , and then add the onion mixture to the pork, bacon and sausages. Mix the two types of beans together.
Layer the pork and onion mixture with the mixed beans, then pour over the tomatoes with their juices. Sprinkle the breadcrumbs over the top and cover with the lid. Reduce the temperature to low and cook for 6 to 8 hours. Served garnished with fresh herbs.