Slow Baked Lamb - Tastes Like Spit Roasted
ImPat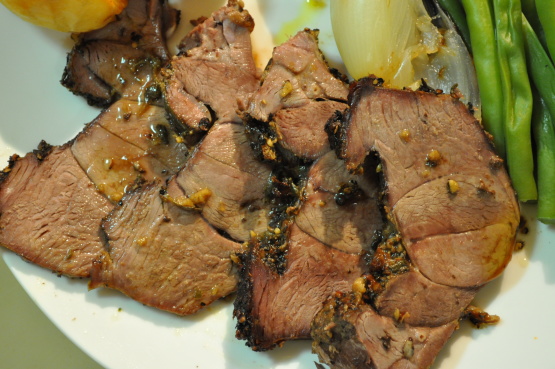 This was published last weekend in the Sunday Age 'Sunday Life' magazine, recipe by Karen Martini. It was everything the article promised - really tasty, succulent 'Greek-style' lamb. I bought an 800 gram lamb mini-roast, and removed all visible fat. I halved both the 'paste' ingredients and the 'wet' ingredients and only put in a small amount of oil. I also marinated the lamb for about 40 mins before cooking, and cooked for about an hour and a quarter. There was an accompanying recipe for a pearly barley, parsley and toasted almond salad which I also made (and it was also very tasty!) - which I'll post later.

Top Review by ImPat
Delicious the only change I would make is to lessen the oil but then I may not have mixed it well enough. I used a 2.2K k of lamb which I deboned and butterflied to get about 1.5K which was well done (to our liking) in 2 hours (had to put it in the second oven to keep warm so I could cook the roast vegetables was expecting the lamb to take 2.5 to 3 hours to cook to well done. I did use fresh oregano (a small handful and mixed with rosemary and other spices) and then forgot to serve with the lemon wedges but a wonderful roast and one I wouldn't hesitate to recommend, thank you amanda 1 b, made for Pick A Chef September/October 2009.
Preheat a fan-forced oven to 170C (or 190C conventional).
Grind salt, garlic, rosemary and peppercorns in a mortar and pestle to a rough paste.
Add olive oil and oregano to the paste and mix well.
Rub marinade into meat and place lamb in a ceramic baking dish.
Add vinegar and water to the dish, cover with foil and bake for 2 hours.
Remove foil, and increase heat to 220C and turn on oven grill. Brown meat for 3-5 minutes until crispy on top.
Remove from the oven and shred meat into large chunks. Arrange on a platter and spoon over pan juices. Serve with lemon.