Sloppy Joe's Mojito (alcoholic beverage)
Calee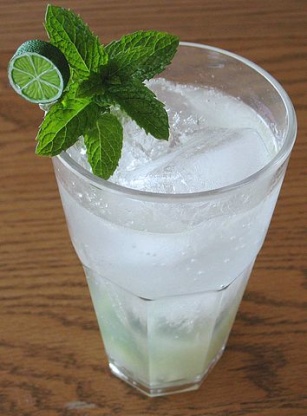 This recipe comes from a 1940's issue of Gourmet Magazine. Made famous in all those glamorous movies of the era, highballs were justly popular in the '40s. But, for more exotic fun, lots of Americans were heading down to Cuba, home of the Mojito. This recipe came from Sloppy Joe's Bar, in Havana.

Top Review by nomnom
I made this last night for 3 people using two limes (they were pretty big compared to the usual pathetically small ones sold in stores), splenda, 9 mint leaves (does that mean the same as a sprig? doubt it), and 1-1/2 tsp rum extract with enough water to equal 3 oz (we didn't have any rum). The drink was too bitter-tasting, but that easily could have been MY fault because I did the "microwave the limes for 20 seconds" trick to get more juice. Probably ending up cooking the little buggers. So tip: DON'T microwave the limes. Should try this with the REAL stuff (rum) next time, so I won't give stars right now because I probably totally messed up
Squeeze juice from both lime halves into a 12-ounce highball glass, then add lime halves.
Add mint and sugar and crush mint with back of a spoon until sugar is dissolved.
Add rum and stir.
Add ice, then top off drink with sparkling water and stir well.