Sloppy Joes (Americas Test Kitchen)
From Cook's Country, October/November 2005: Be careful not to cook the meat beyond pink in step 1; if you let it brown at this point it will end up dry and crumbly. The meat will finish cooking once the liquid ingredients are added. Serve, piled high on a bun, with your favorite pickles.
Directions
Heat oil in large skillet over medium-high heat until shimmering. Add onion and salt and stir until coated with oil. Reduce heat to medium, cover, and cook, stirring occasionally, until onion is soft, about 10 minutes (if onion begins to burn after 5 minutes, reduce heat to low). Add garlic and chili powder and cook, uncovered, stirring constantly, until fragrant, about 30 seconds. Add beef and cook, breaking up meat with wooden spoon, until just pink, about 3 minutes.
Add 1/4 teaspoon pepper, brown sugar, tomato puree, ketchup, water, and hot sauce. Simmer until Sloppy Joe sauce is slightly thicker than ketchup, 8 to 10 minutes. Adjust seasonings. Spoon meat mixture onto hamburger buns and serve.
Make Ahead: If you find yourself with leftover Sloppy Joes or just feel like making a double batch, the meat mixture freezes well for up to one month. To return the meat mixture to its original consistency, you may need to add a little water when it is reheated.
Reviews
Most Helpful
Forget those bad memories of school lunch Sloppy Joes! Served up on spongy potato buns with a side of roasted asparagus, this makes for one seriously delicious dinner. It's very flavorful and extremely easy to pull together on a weeknight -- couldn't be better!
I've made Americas Test Kitchen recipes before & have been pretty satisfied. This was a bit bland IMO, so I added a few other spices...also added some chopped celery & green pepper. Turned out pretty good!!! Pretty sure I would make it again...THANKS for sharing!!! :D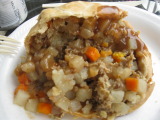 This is really, really, really good. The flavor is very well balanced. I did not feel the need to adjust any seasonings after the sloppy joes had finished simmering.