VickyJ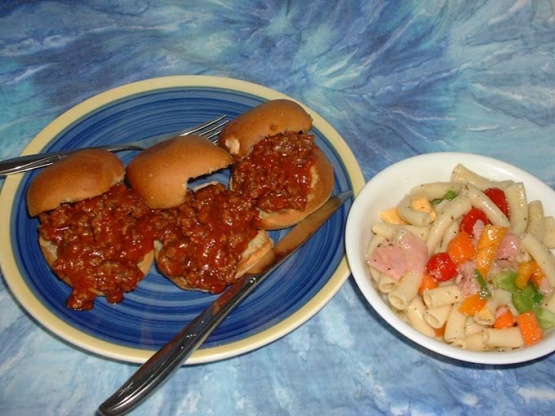 This is a recipe of my mother's that we always wanted for parties. It is shredded meat in sauce. Actually, we know it by the name Beef Barbecue, but I think barbecue means different things depending on where you're from.

Top Review by Poker
This was very flavorable and very easy ! I let my crockpot do the cooking while I was at work! The meat just melted in your mouth!I just love these quick & easy meals and I needed a change from the Beef Steaks !I also perfured the beef chuck instead of the ground beef ~ But I would use the ground beef if I had to do this in a hurry ! Thanks for this one !!
Simmer meat several hours until it falls apart when pierced with a fork; then remove meat from liquid and shred with a fork (liquid may be used as stock in other recipes).
Combine onions, green pepper, butter, brown sugar, tomato paste and salt, and simmer 15 minutes,or until tender.
Add mustard, Worcestershire sauce, Tabasco, pepper, red pepper and catsup, and simmer 5 more minutes.
Combine sauce with meat.
Serve hot on hamburger buns to make sloppy joes.
Note: It is also possible to use ground beef.
Brown in frying pan; remove as much fat as possible, and stir in sauce.