Prep 15 mins
Cook 20 mins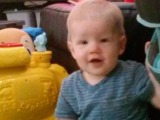 This recipe belongs to my Great Aunt Floris who turned 90 last October. She is still as feisty as ever and still going strong. She is the oldest member of my family with 11 kids, and according to her too many Grandkids and Great Grandkids to count.
Directions
Cook your hamburger first.
While this is cooking, dice up your vegetables and set aside.
Drain off the fat from the meat, and add the vegetables.
Add the tomato sauce, catsup, vinegar Worcestershire sauce, salt & pepper.
Simmer for 20 minutes then serve and enjoy.
Note: If you can't make Sloppy Joes, according to my Aunt, then you're in big trouble, especially if you have 11 kids.
Most Helpful
This is a good and simple Sloppy Joe. When I make it again, I'll add a little more catsup for moistness and a little brown sugar to counter the vinegar. Thanks for sharing your recipe Melody.