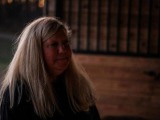 The horse trailers were puling into the lot behind our church. It was a huge, long lot that was approximately 2 acres, and would house horses, their trailers, their owners and riders, and a large jumping course that would provide lots of fun and frolic for 2 days. My mother was in charge of the food supply, and early in the morning she made large, bubbling pots of "Sloppy Joes' a la All Saints!" I know we must of had at least 10 dozen rolls, and probably 25 lbs. of ground beef, large cans of tomato sauces, fresh tomatoes, and V8. Anyway you make these, they are 100% real from our horse show. The only thing missing is the peppermint stuck in the lemon.
Directions
Spray cooking spray in medium skillet.
Brown ground beef.
Remove ground beef, drain, and set aside.
In same skillet, cook onion until soft.
Add chopped tomato, and cook until soft.
Add garlic, salt, and pepper to cooked onions and tomato stirring for 30 seconds.
Add tomato sauce, ketchup, V-8, Worcestershire sauce, brown sugar, and lemon juice to skillet with onion and tomato heating through until bubbly.
Return ground beef to this skillet with sloppy sauce.
Mix well, and heat through.
Add optional spicy seasonings to taste.
Spoon on warmed buns.