Susie D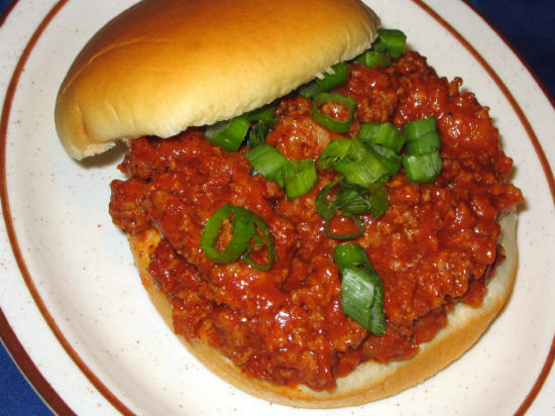 Quick and easy with a great spicy and sweet flavor, perfect for a busy weekday. One of my family's favorites.

Excellent, I have never been a fan of sloppy joe's but this one will make me one.
2

lbs ground beef

2

teaspoons mccormick hot shot seasoning (or 1 tsp each cayenne or red pepper and black pepper)

2

teaspoons salt

2

tablespoons chili powder (I prefer the hot mexican style for the extra kick)

4

tablespoons flour

2

tablespoons Worcestershire sauce
1⁄4 cup brown sugar

30

ounces condensed tomato soup
Brown the meat, breaking it up, until all fat has disappeard.
Lower heat to medium and add the Hot Shot, salt, chili powder and flour.
Mix well to distribute the flour throughout the meat.
Stir in the tomato soup, Worcestershire sauce and brown sugar.
Continue to simmer and stir until thickened.
The longer you let it simmer, the better the flavors will bond.
It will thicken a bit more during cooling.
This feeds 5 good eaters.