Ms B.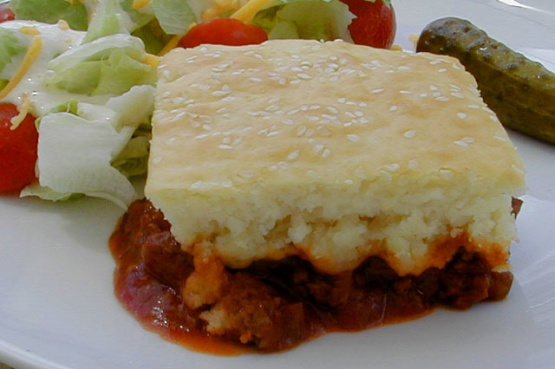 This was the Grand Champion recipe for Quick Cooking's "Fast Fixes with Mixes" recipe contest. (May/June 1999)

This is a somewhat familiar kind of recipe, and pretty simple, but the biscuit and sesame seed topping has a vaguely fancy feel. It really did kind of taste like sloppy joes on a sesame seed bun (albeit with the addition of the cheese). I made this exactly as written, using mostly 85% grond beef and a little 93% I had on hand, and the cheddar was mild, not sharp.
Heat oven to 400°F
Brown beef in a skillet, drain.
Stir in sloppy joe sauce and mix well.
Spoon into ungreased 9" x 13" baking dish; sprinkle with cheese.
Stir baking mix, milk and eggs until just blended; pour over beef mixture.
Sprinkle with sesame seeds.
Bake (uncovered) for 25 minutes or until crust is golden brown.