Marlene.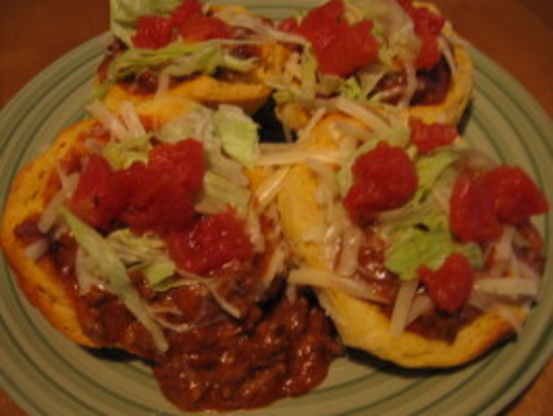 I haven't made these as yet, it looks so good, I can't wait to try it! Since I have not made this as yet, I am not sure how many biscuits are in the refrigerated buttermilk biscuits dough package, or also the correct size of the package, so I really cannot say what the correct yield would be as yet, I am only estimating 8 biscuits for this and 8 ounce for the weight, correct me if I am wrong! You might want to try my Kittencal's Taco Seasoning Mix for this :)

This was a fun and easy recipe...not to mention a nice break from traditional tacos. I changed a few things...I used butter flavored biscuits instead of buttermilk. Also, after I filled these with the meat mixture I sprinkled cheese on top and popped them back in the over for 5 minutes. We topped these with sour cream, pico and Pace taco sauce. Big, big hit in my house. These will most definitely be served again!
Set oven to 350 degrees.
Separate the biscuits and press into a 3-1/2-inch circle.
Place over the UNDERSIDE of a standard-side muffin tin, pressing around the cup to shape into a "bowl".
Bake for 12-15 minutes or until browned.
Remove and place baked cups on a serving platter.
In a skillet brown the beef with onions, garlic and green pepper until browned; season with salt and pepper.
Add in taco seasoning, water and sloppy Joe sauce; simmer for 6-7 minutes or until hot and bubbly, stirring occasionally.
Stir in 1 cup cheese; mix until combined.
Spoon the cooked beef/cheese mixture evenly between the baked "cups".
Top with lettuce, tomato and more shredded cheese.
Top with sour cream and sliced olives.