Boomette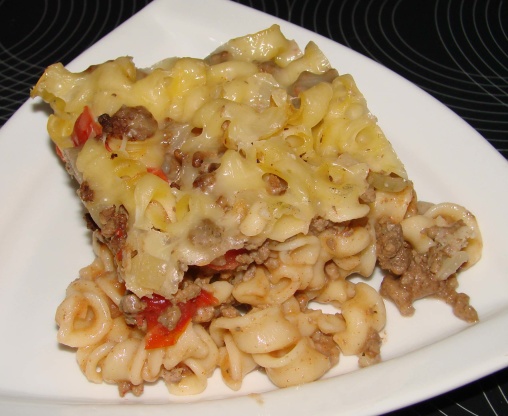 Kids love this! I came up with this when company dropped in and my planned Sloppy Joes needed to be stretched. If you have a favorite Joe recipe, feel free to substitute or improvise. That's half the fun of cooking!
This was so easy to make and both my kids ate it up so a big bonus! I made as is rather than using my regular sloppy joe sauce and this one was good too. I did add an extra 2 tsp of brown sugar but otherwise made as is. Made for Football Pool Week 16 win.
Brown beef and onions in hot skillet; drain grease.
Cook noodles in boiling water for 10 minutes; drain and set aside.
Combine soup, water, chili powder, brown sugar, dry mustard, and vinegar. Stir into cooked meat.
Add drained noodles to meat mixture, stirring gently to avoid tearing noodles.
Spoon beef-noodle mixture into a 9 X 13" baking pan. Sprinkle cheese over top.
Bake, uncovered, at 300° for about 30 minutes.