Sloooooow Cooked Pork Butt
Fabio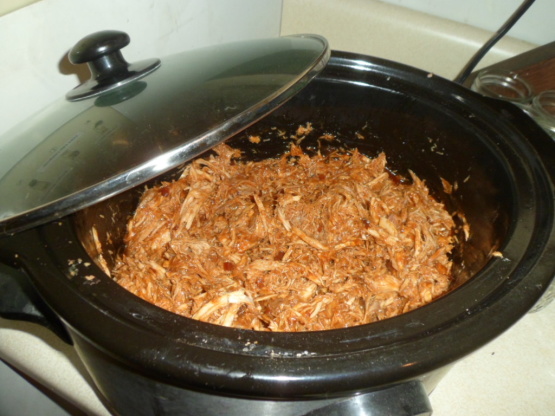 This is, by far, my grandson's most favorite food in the world! Although the recipe is very basic, I have adapted several recipes that I have tried over the years and have come up with this one as my final favorite.
1814.36-2267.96

g pork butt

4.92

ml garlic powder

29.58

ml brown sugar

2

fresh garlic cloves (sliced in 1/8 inch slices)

236.59

ml barbecue sauce (I make my own but store-bought is ok, your favorite)

340.19

g bottle beer (I like an amber ale)

236.59

ml water

1

large onion (coarsely chopped. Yellow is ok, I prefer white and I hear red is also good)

14.79

ml basil (My favorite is Greek Basil because of the aroma)
1) Place the pork butt on your cutting board, fat side up. Using a small, sharp knife, insert the tip into the fat side and make an incision, big and deep enough to insert one of the garlic slices well into the meat (you can use your pinky to push them all the way in). Continue inserting the garlic slices into the fat side until you use them all up. Make sure that they are as evenly spaced as possible. (This also works great for beef pot roasts).
2) Distribute the chopped onions over the bottom of your crock pot and add the water. Sprinkle the garlic powder over the water.
3) Turn your crock pot to high and wait until the water begins to bubble.
4) Place the pork butt into the water, fat side up.
5) Reduce heat to low. Pour the bottled beer over the top of the pork and sprinkle the basil and brown sugar over the wet surface.
6) Cook the pork butt on low for 8 to 10 hours until it starts to fall away from the bone. (If you went through the expense of buying a boneless pork roast, test it by using two forks and pulling the meat in different directions. If it separates easily, it's ready!).
7) Remove the roast from the crock pot and place it in a large bowl. Remove the fat first and discard (I give it to my dogs). Then, pull the meat away from the bone. Again, I use two forks because I don't want to have to wait until it's cool enough to pull apart with my fingers.
8) Pour the liquid out of your crock pot leaving the onions at the bottom. Drop the pulled meat into the crock pot and add the barbecue sauce. Cook on high for about one hour stirring well at first and then occasionally.
9) SERVE! (We love this stuff on onion Kaiser rolls with cheese).