Slimmed-Down Chocolate Cream Pie
Annacia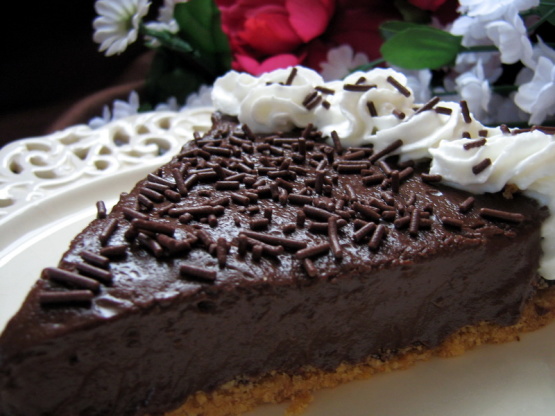 This is a lightened version of chocolate cream pie. Recipe is from Woman's Day. Prep time does not include chilling time for finished pie.

I haven't had real pie (with a crust) in years and when I came across this trimmed version of a rich cream pie I just had to try it. It delivers a deep dark chocolate gratification with all of that regret that we get when we really splurge on a full fat and sugar indulgence. Not only is the fat cut way back but I used Splenda for the sugar and it worked perfectly. Some Cool Whip Light and a light sprinkle of chocolate jimmies to top it off were plenty of "extras". I'm feeling very virtuous (and pleased) right now. The recipe is a snap to follow and I even took a short cut but melting the 2 oz's of chocolate in the heating milk in the first step. The crust was ready to pack into the pan in less than a min. Thank you Lainey, thank you! Made for Photo Tag.
Crust: Heat oven to 350 degrees F.
Coat a 9 inch pie pan or plate with nonstick spray.
Process graham crackers in food processor until finely ground.
Add butter; pulse until coarse crumbs form.
Add egg white, pulse until evenly moistened.
Press crumb mixture evenly and firmly over bottom and sides of prepared pan.
Bake 8 minutes; cool on wire rack.
For filling, in bowl, whisk cocoa powder and cornstarch; whisk in 1 1/2 cups of the half and half.
In saucepan, heat remaining 1 cup half and half and the sugar over medium heat, stirring until sugar is dissolved.
Whisk in cocoa mixture and melted chocolate.
Cook, stirring, until filling begins to bubble; continue to cook, whisking, until very thick, about 2 minutes longer.
Off heat, whisk in butter and vanilla.
Spread filling in crust.
Place plastic wrap onto suface of filling; refrigerate at least 4 hours.
To serve, remove plastic wrap; spread whipped topping over filling.