Prep 15 mins
Cook 25 mins

Excellent taste, low cal, from B H & G, worth the time and effort.
Directions
Place chicken pieces between 2 pieces of plastic wrap.
Pound to 1/4 inch thickness.
Place 1/4 of the ham and cheese on each chicken piece.
Top with 1/4 of the tomato.
Roll up jelly roll style, tucking in sides to seal well.
Use toothpicks if necessary.
Stir together breadcrumbs, Italian seasoning, parmesan, parsley and 1/8 teaspoon pepper.
Brush chicken rolls with melted margarine.
Roll in crumb mixture to coat well.
Place in 10x6x2-inch baking dish.
Bake in 350°F oven about 25 minutes or till chicken is tender.
Most Helpful
I use to often make this recipe and forgot about it..found it this morning; I was lining up to post it but made a search first; found it here. Great recipe. Rita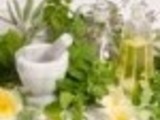 Wonderful dish! We loved it.It was not that complicated to put together at all, but looked and tasted like it took a lot of work.The only change that I made was to use "Sun-Dried Tomato Pesto", in place of the fresh tomato. I had just used my last fresh one in a salad to serve with it.Thanks for another keeper Derf!