Sliced Steak and Roasted Poblano Gravy
PaulaG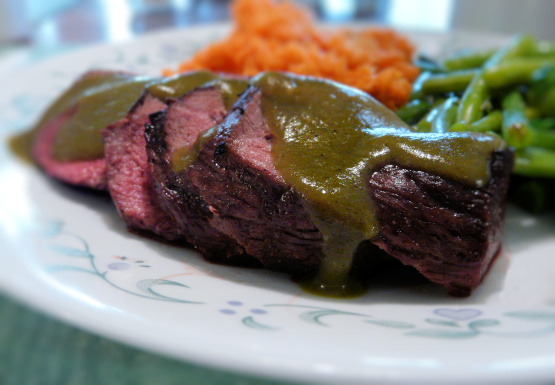 I saw this on Rachael Ray this week and made it as a welcome home from the hospital for my DH. It was served with Mashed Chipotle Sweet Potatoes and green beans. The gravy is wonderful and goes great on top of meat loaf as well as grilled chicken.

LOVED IT! Paula, not only did this gravy make a great steak sauce, but I believe I have finally found the enchilada sauce I've been searching for! I seasoned the steaks with cajun seasoning along with Jane's Krazy Mixed Up Salt and Pepper, and even on their own these steaks were very flavorful. But the sauce, oh my, was it good! I couldn't find poblano chilis, so I used dried California chilis and reconstituted them with the heated beef broth, then put them in the blender and through a sieve. Made for PAC, please see my rating system as I rate tougher than most. EDITED TO SAY THAT I'VE MADE THIS TWICE NOW AND IT'S OUTSTANDING!
4

(5 ounce) beef top sirloin steaks, 5 oz each cut 3/4 to 1 inch thick
cajun seasoning or dry steak seasoning

2

large poblano peppers

2

tablespoons butter

2

tablespoons flour

2

cups beef stock, approximate

2

teaspoons Worcestershire sauce

1

teaspoon ground cumin
salt and pepper
Rinse the steaks under running water and pat dry, rub with seasoning and allow to stand at room temperature while preparing the peppers.
Place the peppers under the broiler and broil until the skin blackens and peppers are soft, put in paper bag and allow to stand until cool.
When the peppers are cooled, slip off skins, cut in half and remove seeds; place in a blender container with a small amount of the beef stock. Process the peppers until smooth, set aside.
Place the meat on broiler rack and broil 6 to 8 minutes per side or until medium; allow meat to stand for 10 minutes before slicing.
Melt the butter in a medium saucepan, stir in flour and allow to simmer over medium low heat until flour is golden.
Whisk in beef stock, Worcestershire sauce and cumin; continue to cook; as mixture thickens whisk in the pureed peppers and cook until desired consistency; season with salt and pepper to taste.
Slice the meat into 1/4 inch slices, arrange on plate and pour gravy over all.