Sliced, Spiced and Iced Refrigerator Sweet Dill Pickles
Tona C.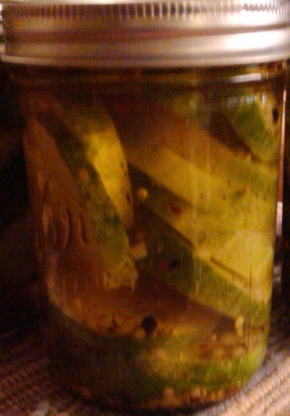 Feeling a little lazy and not wanting to can, I was looking for a good recipe for chilled dill pickles, but couldn't quite find the exact recipe I wanted so I have adapted a recipe from Group Recipes and Epicurious to fit my needs. It's slightly sweet with the lovely taste of dill. I hope this fits your needs too! :) Cooking time is marinating time. Thank you for the inspiration coconutlime and Amelia Saltsman!

Easy to make - When I eat them in a few days I'll let you know how they taste!! Edit: After over a month, they taste delicious, tangy and sweet. I prefer slightly less sweet so next time I might reduce the sugar. Not super crispy but not too soggy either.
Evenly divide the garlic, fresh dill and sliced cucumbers among four wide mouthed pint jars.
Before adding the mustard seed, red pepper flakes, peppercorns(if using) and dill seed, crush them slightly. You can use your hands, a mortar and pestle, or give then one quick whiz in the food processor(optional).
In a saucepan, mix together vinegar, water, sugar, red pepper flakes, celery seed, salt, mustard seed and dill seed. Heat to just dissolve sugar, then remove and let cool. Use a funnel to fill each jar with the cooled brining liquid. The spices may float to the bottom, so use a spoon to evenly divide anything that is leftover into the jars. Cap tightly and refrigerate at least one week before eating. Enjoy!
It was suggested you do this over a large bowl. The cucumbers start to float and displace liquid. Add the overflow back into the brining mixture before you fill up the next jar. No mess! :).