Sliced Peaches in Lime Rum Sauce (Diabetic)
ImPat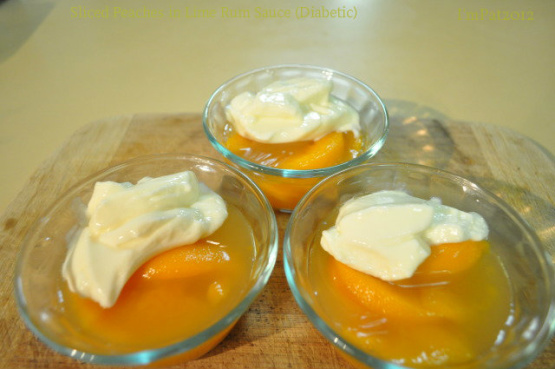 From The American Diabetes Association's Flavorful Seasons Cookbook, this sounds simple and refreshing.

Top Review by ImPat
First of all I have to state I am not a dessert fan but I did enjoy this (though found it a little to sweet for me) but I really made it for the DM who is also diabetic but has a bit sweet tooth and she and the DS thoroughly enjoyed. I served it with some fat free vanilla yoghurt. Also because I used bottled peaches (in natural juice) I only cooked them for 5 minutes so they would not turn to mush and I also used whole cloves (2) and removed them before putting the peaches and syrup into the serving bowls. Must say I am looking forward to trying this with fresh peaches (which should be available in about 2 months here and the farmers are prediciting a bumper crop at this stage) as I think I will enjoy it more as they don't tend to be as sweet as bottled or canned. Thank you lazyme, made for ZAAR Chef Alphabet Soup.
In a saucepan over medium heat, heat the lime juice, rum, honey, and water.
Bring to a boil, lower the heat, and simmer for 5 minutes.
Add the cloves.
Mix together the cornstarch or arrowroot powder and water.
Add to the sauce.
Add to the peaches and cook for about 10 minutes.
Chill and serve in individual dishes.
Exchanges: 1 Fruit.