Sliced Chicken Breasts in a Thai Sauce
Prep 10 mins
Cook 25 mins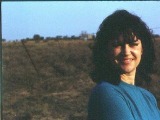 Easy and quick, and also fresh and healthy! In this house each diner will get 2 chicken breasts, so the recipe serves 3 people -- but if you have smallies also sharing, 1 breast each will be enough for them, so my "3 - 6 portions" take that into account.
Directions
Flatten the breasts gently with a meat mallet. Dredge lightly in the flour, and cut into strips.
Heat a good layer of oil in a pan. Fry the strips, stirring, until done. Use quite a high heat: they will cook quickly. Drain on kitchen paper, and keep warm.
Fry the sweet pepper strips in the same pan, stirring. You might have to add more oil. Fry briefly, so that they are still crisp.
Then add the ginger, garlic and spring onion, and stir through for a minute or so.
Remove from heat, and stir in the Thai sweet chilli sauce.
Put the chicken strips in a serving bowl, and spoon over the peppers and sauce.
Nice-looking if served on top of a mound of jasmine rice, or -- healthier -- brown basmati. Nice sides are al dente thin baby green beans and a crisp salad.
Reviews
Most Helpful
An great quick and easy recipe! I used my usual brand of sweet Thai chili sauce and served this with black sticky rice. Perfect dinner for us. Thanks for sharing!<br/>Made for the Cook-A-Thon in honor of Zurie's DH.

* * * MADE FOR COOKATHON IN HONOR OF ZURIES DH JANUARY 2014 * * * <br/>This dish came together so quickly! We loved it! I used a Sambel Oelek for the chili garlic sauce. One I have used in the past, and it was just right. The sweetness of the peppers in this mellows out the heat for me. Which is perfect. I served it over jasmine rice which has a little sweetness to it also. My only alteration to the recipe was, I used only 2 good sized chicken breasts. We had enough for 2 of us tonight, and I have some for me and a friend to have for lunch tomorrow at work. Thank you Zurie for this wonderful dish.