Kats Mom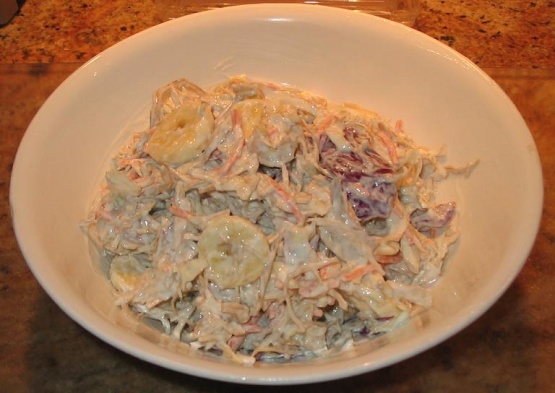 Found this recipe written in my mother's old steno pad. She copied this down in the late 50's while visiting family on the farm in Kansas. I can't remember her making it, but I wish she had because it sure tastes great. Throw in a handful of sweetened-dried cranberries for color and texture.

WOW! I am so glad I tried this! It is REALLY REALLY GREAT! My mother and I boy mmmmd our way through our bowls. I am so happy to have this recipe! I used fat free sour cream and a little more cabbage then stated. Thank you for sharing! So easy yet so GREAT!
In a large bowl, mix dressing ingredients until sugar and salt dissolve.
Mix in cabbage; stirring until well coated.
Gently fold in sliced bananas.