Banriona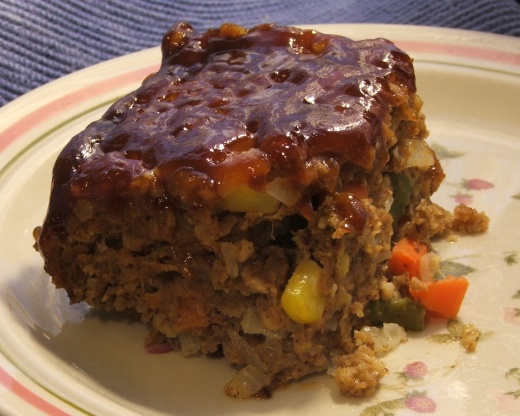 This recipe makes even the biggest meatloaf critic ask for seconds!! I grew up eating this as a kid, and now serve it to my family. As a nice all-in-one meal, you can line the bottom of the loaf pan with quartered medium sized potatoes and place the meatloaf on top. The juices from the meat flavor and tenderize the potatoes as it bakes.

This is a great throw-together-and-into-the-oven all-in-one recipe! I double it (except the onion soup mix), line a 9X13 glass baking dish with potatoes, and add 10-15 minutes more cooking time. It feeds us for about 3 days! Great to make when the money's tight, or you just need a simple meal. This on is a keeper! Thanks so much!
Mix all ingredients except 1/8 cup barbecue sauce together in a large mixing bowl.
Press into a loaf pan.
Top with 1/8 cup barbecue sauce.
Bake at 350 for 60 minutes.