gailanng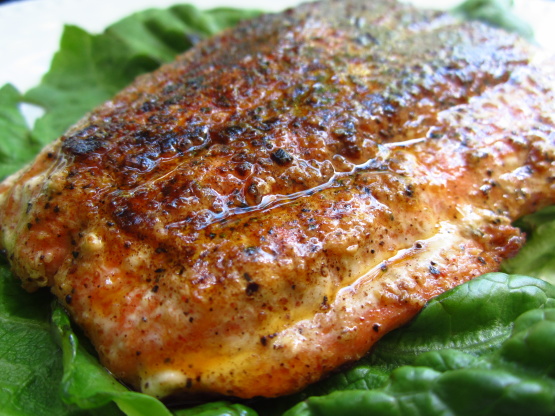 This is the easiest and most delicious meal that I make! It turned my non-fish eating husband into a salmon maniac! It is quick simple and so luxurious. I have wowed many a guest with this simple recipe.

Top Review by Sandy
Tadger, why so negative? This sight is for EVERYONE of all degrees of cooking skills & tastes. This was a GREAT spin on salmon, very quick for working folks and a big help to others. Can't wait for your culinary expert recipies and watch the reviews.
1

lb salmon fillet (preferrably fresh but frozen works well too! Just cook it alittle longer.)
blackening seasoning (I like Zatteran's found at most supermarkets)
Remove salmon from package and rub with blackening seasoning on skin free side.
Use just enough to cover the piece of fish but not so much that you can't see the pink behind the seasoning.
Heat grill pan on med heat and brush lightly with olive oil (very lightly) Place salmon skin side down on pan and cook on med heat until half of the salmon (from the bottom up) is opaque.
Flip salmon and remove skin (it will peel off very easily and usually in one piece- I place it in a small plastic bag and tie it before dropping it in the garbage can to reduce fishy odors) Cook another 5-8 minutes until the entire piece of fish is opaque and runs with a white milk like substance (healthy omega fatty acids) Serve immediately with rice or potato and veggie of your choice for a healthy meal that tastes like you're at a restaurant even when you cooked it yourself!