Slam Dunk Cheeseburger Bites
berry271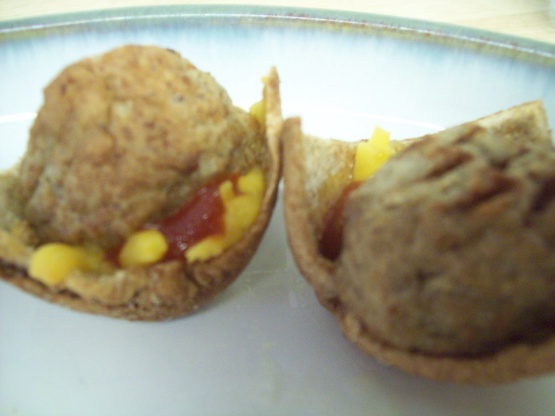 These are so cute! What a great idea! The recipe comes from a betterrecipes.com email.

Yes, yummy and fun! My toddler really likes finger foods! I actually served these as a main dish alongside a pasta salad (yes there were veggies in the salad too). I did make a few changes. We don't usually keep the phyllo cups around and I'm not one to buy something special to make a dish. I had some leftover hamburger buns (appropriate I thought) and I separated them and rolled them flat and cut them into quarters. I used my mini muffin pan and placed the quarters into the cups and toasted them in the oven for about 5 minutes at 350. So now that I had little toast cups, I did the cheese on the bottom as directed and then a small dollop each of ketchup, mustard and sweet pickle relish. Then I topped with the meatball halves. Since I was using my mini muffin tin, I used 12 meatballs to make 24 bites. Cute and tasty! Not sure if they looked like basketballs in a net, but that wasn't why I was making them. Also I think I would actually prefer my method of using the toast cups rather than the phyllo cups. Not sure the phyllo cups would be as tasty, but not having tried them that way, I can't say for sure. Thanks for the yummy idea! I can see this becoming an easy supper for my little guys or a quickish kind of late night snack.
Preheat oven to 350 degrees Fahrenheit.
Halve each meatball and set aside.
Remove phyllo shells from their plastic tray; place shells in a small baking dish.
Place about 2 teaspoons cheddar cheese into each shell.
Spoon about 1/2 teaspoon ketchup over cheese.
Place a pickle half on top of ketchup.
Top each with a meatball half, rounded side up.
Bake for 10 to 12 minutes, or until shells are golden and crispy.
Serve hot.
Makes 15 completely addicting and fun appetizers that look like little basketballs in a basket!