skirt steak w/basil sauce
JustJanS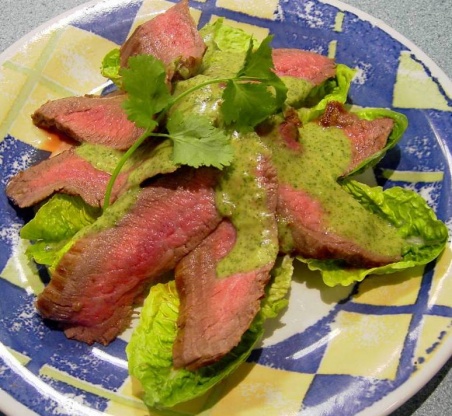 I adapted this recipe from gourmet magazine. The original calls for cilantro, so feel free to use that instead. I am not a big meat eater, but i do love skirt steak!

Very good! I used basil and the only change I made was i/s/o cumin, salt and pepper on the steak - I used garlic powder, salt and white pepper. Thanks!
make a paste of garlic and salt transfer to a blender and add olive oil, lemon juice, basil, cayenne and pepper, blend until smooth, set aside.
mix cumin, salt and pepper and rub into both sides of skirt steak.
spray a grill pan with cooking spray.
add steaks, in 2 batches, and cook 2-5 minutes per side for medium rare.
slice steaks thinly across the grain, serve with sauce.