Skirt Steak Fajitas With Lime and Black Pepper
Gatorbek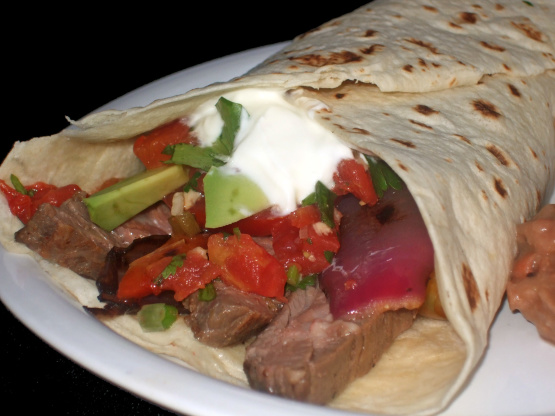 Great time of year to fire up the BBQ...here is one of our home-runs! Cooks' note: ° If you aren't able to grill, onions (no need to skewer) and steak can be cooked in a lightly oiled well-seasoned ridged grill pan over moderately high heat and tortillas can be toasted over gas (hold with tongs) or directly on top of electric burners. Cut skirt steak into pieces to fit in grill pan and grill in batches without crowding. Special equipment: metal skewers or a grill basket. Please note: this is an adopted recipe and I hope to make it soonest. If you make it before I do, I would appreciate feedback, Thanks ! ZWT REGION: Mexico, TexMex.

These fajitas are very good, especially the onions. I added some red bell pepper strips to grill with the onion. The steak, I felt, just needed something besides the lime juice and pepper in a marinade... a few simple spices such as cumin or even some garlic would definitely up this to 5 stars. When assembling the fajitas, instead of using tomato and cilantro, I used Recipe #289407, which has a predominant tomato and cilantro flavor, as well as some complementary lime, and we also added sour cream. Served with Recipe #290034 and some corn on the side. The kids loved it all, they both had seconds!
Prepare grill for cooking.
Thread onions onto skewers (or put in grill basket), then brush with 1/2 tablespoon oil and season with salt and pepper. When fire is medium-hot (you can hold your hand 5 inches above rack for 3 to 4 seconds), grill onions, turning occasionally, until tender, 16 to 20 minutes. Transfer to a cutting board. When just cool enough to handle, cut onions into 1-inch pieces and toss with vinegar and 1/2 teaspoon salt.
While onions are grilling, stir together lime juice and remaining teaspoon salt and 2 tablespoons oil in a shallow dish, then add steak and marinate at room temperature, turning once, 10 minutes.
Pat steak dry, then rub with pepper. Grill steak on lightly oiled grill rack, turning once, 6 to 10 minutes total for medium-rare.
Transfer to cutting board, then let stand 5 minutes before cutting diagonally into thin slices.
While steak is standing, toast tortillas directly on grill rack, turning once, until puffed slightly and browned in spots, about 1 minute total.
Serve steak, onions, cilantro,tomato, avocado and salsa all wrapped in tortillas.