Skinnier Artichoke Spinach Dip
Parsley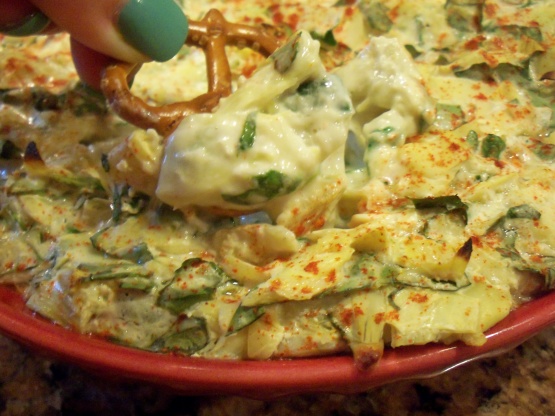 1/4 cup of this (made as written) is only 70 calories!!! Use veggies to dip and you could have two servings without feeling guilty! They key is fresh garlic. Don't expect it to be rich like the full-fat recipe, but for as light as it is, the taste is darn good!
Preheat oven to 400°F.
Chop artichoke hearts.
Heat cream cheese in microwave for 1 minute or until hot and soft.
To the softened cream cheese, add chopped artichokes, spinach, water chestnuts, Parmesan, yogurt, garlic, lemon zest, paprika, salt and pepper.
Stir very well.
Pour mixture into a baking dish and bake at 400 for 20-30 minutes.
Serve hot with veggies or crackers.