Skillet Ziti With Chicken & Broccoli
Jess L.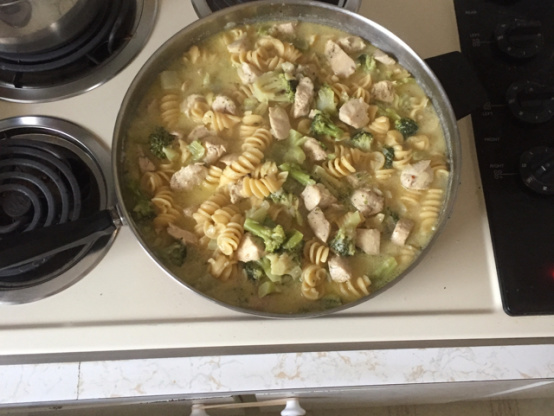 The sauce is amazing, all the girls in my office have cooked this recipe and we all agree it is by far one of our favorites! This recipe puts a full meal on the table using only one pan and 30 minutes of your time. America's Test Kitchen Cookbook.

Mmmm! Tastes like I made restaurant food! Besides being quite tasty, it was quick and easy - I love the idea of cooking pasta in the pan instead of boiling it in a pot of water. Plus, the pasta takes on flavor that way. I had cooked chicken from recipe #33104 (highly recommended, btw) and had asparagus on hand, which I steamed seperately and added in. I used whole wheat pasta spirals, probably more than 2 1/2 cups, so I simply "barely covered" them with the milk and broth, stirred it a few times while cooking, and it came out perfect. I omitted the peppers (personal preference.) However, I feel like the lemon juice is what really made the dish stand out, so I highly recommend it. Also, I added extra cheese, but it tasted better before I did that;do go easy there! So, go make this already; everyone will love it!
Season chicken with salt and pepper.
Melt 1 tbs butter in 12-inch skillet over medium heat. Add chicken and cook until it is lightly browned but not fully cooked, about 4 minutes. Transfer chicken to a bowl.
Add 1 more tbs butter, onion, red pepper flakes, oregano, & 1/2 tsp salt to the skillet. Cook until the onion is softened, about 5 minutes. Stir in the garlic and cook until fragrant, about 15 seconds.
Sprinkle the ziti evenly into the skillet. Pour the broth and milk over the ziti. Cover and bring to a simmer about 5-10 minutes or till al dente (original recipe advised to cook pasta for only two minutes, I found this to be not long enough).
Reduce heat to medium low and stir in the broccoli and roasted red peppers. Cover and continue to simmer, stirring occasionally, until the past begins to soften and the broccoli turns bright green, about 8 minutes. (If the sauce reduces too much you could add more milk and broth).
Stir in the chicken and any accumulated juice. Cover and continue to simmer until the chicken is cooked through, about 3 minutes longer.
Stir in the remaining 1 tbs butter, Parmesan, and lemon juice. Season with salt and pepper to taste.