Parsley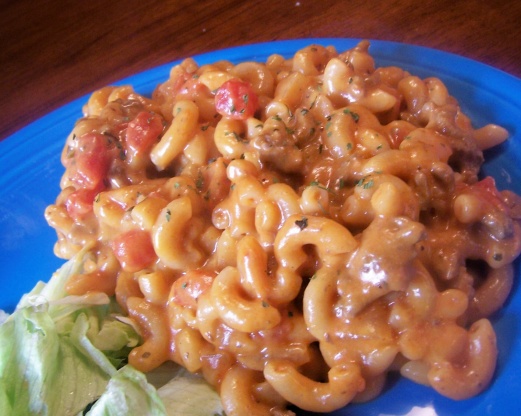 A quick skillet meal. Only 1 skillet to wash...woohoo! A kid-pleaser at my house.
Very good. Felt it was missing a little something, so I added red and wine vinegar, tomato paste, and a little hot sauce for kick. Tasty!
In a large skillet, brown and crumble the ground sirloin with the chopped onion until no longer pink; drain excess fat, if desired (there shouldn't be that much if you've used the extra lean ground sirloin).
Return cooked beef/onions to skillet. Add the tomato sauce, water, diced tomatoes, dry macaroni and seasonings. Stir well and bring to a boil.
Reduce heat to medium-low. Cover tightly and simmer for 12-15 minutes (stirring once or twice) or until macaroni is tender.
Add milk and cheese and stir well, until cheese is smooth and melted.
Serve.