Skillet Shrimp and Tomatoes
vrvrvr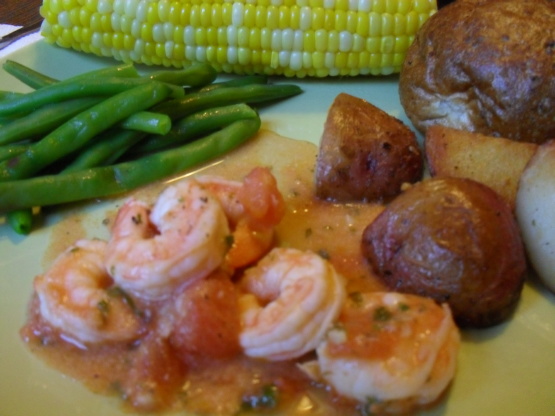 Quick recipe I found in the paper which was adapted from Everyday Food magazine. Sounds yummy. Test kitchen tip: Always heat cooking oil in the pan before adding other ingrdients, and swirl pan to coat bottom evenly. The oil is hot enough it sizzles when water is sprinkled in or when food is added (to prevent splattering, tip pan away from you to allow oil to pool, and add food to side of pan close to you). Serve over pasta, rice or spinach.

Top Review by vrvrvr
This was delicious, light, summery and flavorful. I used 2 large regular garden tomatoes, skin removed and coarsely chopped, instead of plum tomatoes. I couldn't get a great photo no matter how I tried, darn it. I served the shrimp with corn on the cob, fresh green beans, crispy potatoes and whole wheat rolls for soaking up the tomato garlic sauce. Wonderful dinner for our Father's Day. Thanks for posting this winner!
In a large nonstick skillet, heat 1 tablespoons oil over high heat; swirl to coat pan.
Season shrimp with salt and pepper.
Add half the shrimp to the pan; cook 3-4 minutes until opaque throughout.
Transfer to a plate; repeat with remaining 2 teaspoons of oil and shrimp.
Reduce heat to medium, add garlic and red pepper flakes; stir in tomatoes; cook 4-6 minutes until they begin to break down.
Season with salt.
Return shrimp and any accumulate juices to the pan. Add parsley and lemon juice and toss to coat.