Skillet Sausage, Peppers, and Mushrooms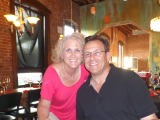 Southern Living Ultimate Quick and Easy Cookbook
Make and share this Skillet Sausage, Peppers, and Mushrooms recipe from Food.com.
Directions
Brown sausage in a 10-inch cast-iron skillet; add wine.
Bring to a boil; cover, reduce heat, and simmer 10 minutes or until sausage is done.
Uncover, bring to a boil, and reduce wine by two-thirds. Remove sausage, reserving drippings in skillet; keep sausage warm.
Add onion, garlic, bell pepper, and mushrooms to skillet; saute until tender. Return sausage to skillet; add tomato sauce. Simmer 8 minutes or to desired consistency.