Skillet Macaroni and Cheese
loof751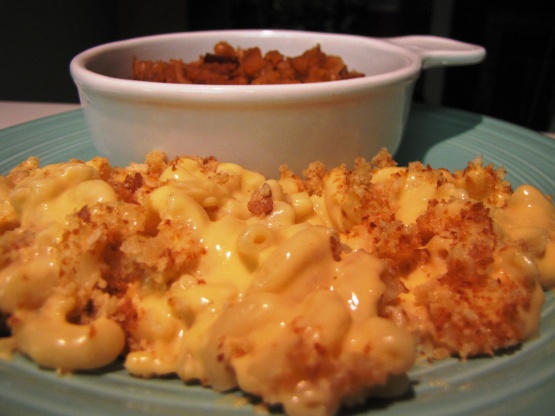 I have another version of Skillet Macaroni and Cheese posted, but this one is different with the cheeses it includes and several other ingredients. In addition, it adds a bit of heat with the hot sauce. This recipe calls for homemade bread crumbs. To make them, pulse 2 slices of hearty white sandwich bread in a food processor until coarsely ground. The recipe is from Cook's Country.

This is a great, one-pan easy homemade mac-n-cheese! The hot sauce is a necessary addition - didn't add any heat, just a nice rich flavor. I only added 4 cups of cheese (2 of each kind) and it was plenty creamy and cheesey. Thanks for posting this great recipe!
Melt butter in large nonstick skillet over medium-high heat.
Add bread crumbs, 1/4 t salt, and 1/4 t pepper and cook, stirring frequently, until deep golden brown, about 5 minutes.
Transfer to bowl and wipe out skillet.
Bring water, 1 1/4 cups evaporated milk, and 1/2 t salt to simmer in skillet over medium-high heat.
Add macaroni and cook, stirring often, until macaroni is al dente, 8-10 minutes.
Whisk remaining evaporated milk, cornstarch, and hot sauce in small bowl, then stir into skillet.
Simmer until slightly thickened, about 1 minute.
Off heat, stir in cheeses, one handful at a time, adding water as needed to adjust consistency.
Sprinkle with toasted bread crumbs.
Serve.