Skillet Gnocchi With Spinach & White Beans
loof751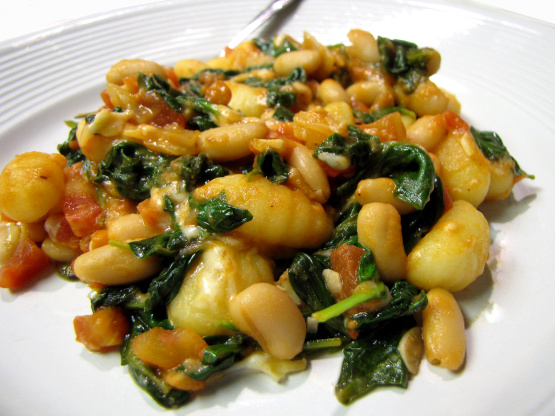 This is my version of a recipe I found on EatingWell and tweaked to our liking. We like ours very thick. See options for a slightly saucier version see *optional version* it adds a 1/2 cup of water and changes how the onion is cooked.

We enjoyed this hearty all-in-one dish. Great combination of ingredients -- next time, I might cut the spinach by half and add some red pepper flakes to give it a little "kick". I will definitely make this dish again. Thanks for the post! Made for the Everyday is a Holiday tag game.
Heat 1 tablespoon oil in a large nonstick skillet over medium heat. Add gnocchi and cook, stirring often, until plumped and starting to brown, 5 to 7 minutes. Transfer to a bowl and keep warm.
Add the remaining oil and onion the pan and cook over medium heat for about 7 to 10 minutes, till soft and lightly caramelized. Stir in garlic and cook 1 to 2 minutes.
Add the spinach, tomatoes, beans, pepper to the onions and garlic and cook for 1 to 2 minutes. Stir in gnocchi and sprinkle with mozzarella and Parmesan. Cover just till cheese melts about 1 minute.
*optional version* Add reaming oil and onion to the pan and cook, stirring, over medium heat for 2 minutes. Stir in garlic and 1/2 cup water. Cover and cook until the onion is soft about 4 minutes.