Skillet Creole Chicken Fricassee
vrvrvr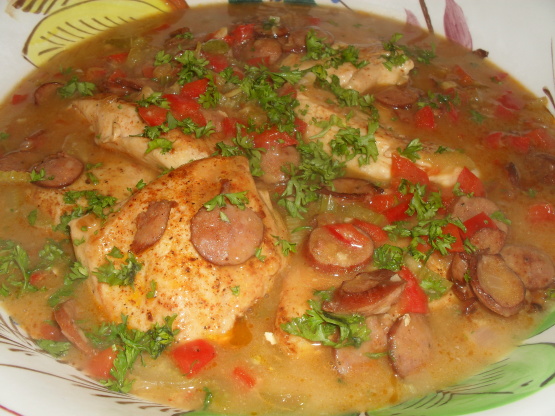 Published in Cook's Country magazine, Dec/Jan 2007. You can substitute chorizo or kielbasas for the andouille sausage. Serve over rice. Note: there are several good recipes posted on RecipeZaar for Creole seasoning.

Looked for another chicken recipe and a way to use up the celery in the fridge and found this. Went together relatively quickly, lots of chopping and it made lots of yummy sauce. I used smoke summer sausage as my girlfriend isn't fond of chorizo and other spicy sausages. Used Zatarain's Creole spice and I served over Zatarain's Dirty Rice. Lots of leftover for taking to work. A keeper recipe for certain. Easy enough to do on a weeknight.
Halve each chicken breast crosswise (or, depending on size, you may want to cut each into 3 pieces.) Pat chicken dry with paper towels and sprinkle with 2 teaspoons Creole seasoning.
Cook sausage in large nonstick skillet over medium-high heat until browned, about 5 minutes. Transfer sausage to paper towel-lined plate, leaving fat in skillet. Cook chicken in sausage fat until browned, about 2 minutes per side. Transfer to plate with sausage.
Add oil, onion, celery, and pepper to now-empty skillet and cook until lightly browned, about 5 minutes. Add garlic and cook until fragrant, about 30 seconds. Stir in flour and remaining teaspoon Creole seasoning and cook until four begins to brown, about 1 minute.
Slowly stir in broth until smooth. Return chicken and sausage to skillet. Cover and simmer until chicken registers 160°F, about 10 minutes. Serve over rice.