Skillet Creamy Lemon Chicken
Swirling F.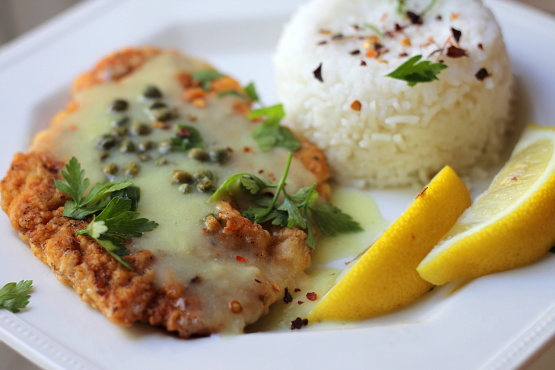 This was an existing recipe on here but made some changes to my liking. ¥¥ Because my family loves to put the chicken over pasta with the same sauce, I doubled the sauce ingredients. We LOVE lemon and tangy chicken but if you're not a fan of it then cut back the lemon juice & lemon vinegar. I also added some other ingredients to my personal liking...hope you enjoy it!!

Top Review by jlkcat
Very tasty -- only improvement would be as suggested by others -- make more sauce! I served the chicken on top of spinach, mushroom and artichokes sauteed in garlic resting on a bed for fettuccine with a red lettuce, tomato and fresh mozzarella salad.
In a nonstick skillet, heat olive oil over med high.
Stir in butter until melted.
Add chicken.
Cook 5 min to brown, then reduce heat to med.
Turn chicken and cook about 4-5min more until juice runs clear when pierced.
Transfer chicken to a warm dish.
Lower heat if needed to maintain medium-low to medium heat so as not to scorch the garlic, then add garlic to the drippings in the skillet.
In a cup, mix stock, wine, lemon juice, and 1 1/2 teaspoons of flour until smooth.
Stir into mixture in skillet. Scrape skillet to incorporate any browned bits from the chicken.
Heat to a boil, boil 1 minute. Stir in capers and remaining 1 tablespoon of butter, simmer until thickened.
Pour sauce over chicken, sprinkle with parsley and garnish with additional lemon slices.
**This recipe is to make double the sauce to add to add to pasta if you are laying the chicken on top.
Note: Occasionally, this has turned out a little more "tangy" than I would like with too much lemon. If this happens, just dilute with a little extra chicken stock or broth mixed with cornstarch or flour to keep thicker consistency.