Skillet Chicken, Stuffing and Gravy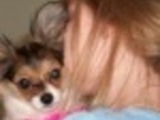 My mom used to make this so it's a comfort food to me. I make it fairly often because it is the quickest easiest recipe that I have. You can have a hot dinner on the table in about 20 minutes.
Directions
Spray large nonstick skillet with cooking spray. Add chicken and cook on medium heat for 3 minutes on each side. Add gravy to skillet and cook for 5 minutes or until chicken is cooked through.
In bowl, combine stuffing mix and water. Spoon stuffing over chicken in skillet. Cover and cook for 5 minutes or until heated.