Chef floWer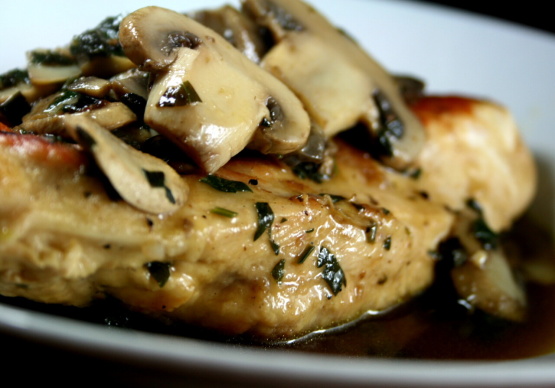 This is a quick one skillet recipe for chicken marsala. Can be served over hot cooked pasta and you have an easy meal for a weeknight when you have little time to prepare a great meal.

This is wonderful. I sliced my chicken breasts in half instead of pounding them and made this with the chicken broth. I used a combination of button, cremini and portabello mushrooms. I allowed the chicken to simmer in the liquid for 20 minutes or so with a lid on top and the chicken was unbelievably tender and juicy. After removing the chicken from the pan I added a small amount of cornstarch and water and a little bit of half and half cream to make a cream sauce to pour over top. This was a very easy, very tasty dinner!
Flatten each chicken breast half to 1/4-inch thickness by gently pounding between sheets of plastic wrap or waxed paper. Mix four, salt and pepper. Coat chicken with flour mixture; shake off excess flour.
Heat oil in 10-inch skillet over medium-high heat. Cook garlic and parsley in oil for 5 minutes, stirring frequently.
Add chicken to skillet. Cook, turning once, until brown.
Add mushrooms and wine.
Cook 8 to 10 minutes, turning chicken once, until chicken is no longer pink in center.