Chef floWer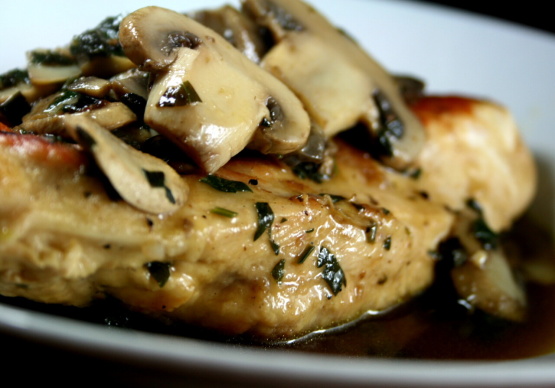 This is a quick one skillet recipe for chicken marsala. Can be served over hot cooked pasta and you have an easy meal for a weeknight when you have little time to prepare a great meal.

Excellent as written. I've reviewed this before but now I want to include these notations for my own later use. I use boneless, skinless thighs, chunked and not flattened, or chicken breasts as directed, but I have also used pork tenderloin medallions and they are excellent also (my husband's favorite!). I put this together differently because I want lots of sauce for angel hair pasta and I have been working on that and finally got it to my satisfaction, and in doing that I also modified the ingredients. I used about 3 T of my homemade parsley pesto with a little roasted garlic olive oil and added about 3 T refrigerated minced garlic, and about 8 very large sliced mushrooms in a skillet, and sauteed until the mushrooms were tender. Then I removed the mushroom mixture, putting about 2/3 of the mushroom mixture (reserving the remainder) in a saucepan and added to that a mixture or 1 C chicken broth and 1 tsp cornstarch, and 1/4 C Marsala and a sprinkle of smoked kosher salt and brought it to a boil until thickened and then added about 2 T heavy cream and 2 sliced green onions, heated well and turned off the burner. Meanwhile I proceeded to follow this Skillet recipe pretty much as written, just adding back the already sauteed mushrooms where the fresh ones would be added. To serve I put the cooked pasta in a pasta dish, topped with the sauce and then topped that with the Skillet Marsala Chicken mixture. These changes gave me the additional sauce I wanted without sacrificing any of the yummy flavor of this dish.
Flatten each chicken breast half to 1/4-inch thickness by gently pounding between sheets of plastic wrap or waxed paper. Mix four, salt and pepper. Coat chicken with flour mixture; shake off excess flour.
Heat oil in 10-inch skillet over medium-high heat. Cook garlic and parsley in oil for 5 minutes, stirring frequently.
Add chicken to skillet. Cook, turning once, until brown.
Add mushrooms and wine.
Cook 8 to 10 minutes, turning chicken once, until chicken is no longer pink in center.