Skillet Chicken and Potatoes
vrvrvr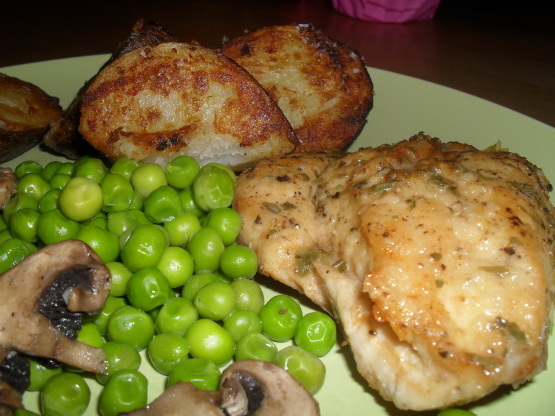 This is a quick and easy meal for any chicken lover, it's one of my favorites, although I do prefer the fresh thyme instead of the sage.

Top Review by vrvrvr
This was heaven! I used russets instead of red potatoes; I don't own a microwave so I just boiled the potatoes (scrubbed and chunked) for about 12 minutes until they were *just* tender. I also pounded the chicken breasts so that they were kind of thin and uniform before salting & peppering. Oh, and I subbed tarragon for the sage. Otherwise (otherwise? well, yeah) I followed the recipe and it was just delicious. The cooking directions were great and the finished dish was perfectly wonderful... I let those potatoes get good and crispy in the pan (longer than the 5 minutes called for, turning them so that each side browned). Served with peas and sauteed fresh mushrooms for a dinner that had folks coming back for more. Loved it!
Toss potatoes, and 1 tablespoons oil in microwave safe bowl. Cover with plastic wrap and microwave on high power until tender, 4-5 minutes, tossing potatoes halfway through cooking.
Place flour in shallow dish. Season chicken with salt and pepper, dredge in flour, and shake to remove excess. Melt 1 tablespoons butter with remaining 2 tablespoons oil in large skillet over medium-high heat. When foam subsides, cook chicken until browned on both sides, 3-5 minutes per side. Transfer to plate, leaving fat in skillet, and cover chicken with foil.
Reduce heat to medium, add potatoes, cut side down, and cook until browned, 4-5 minutes. Transfer to platter. Add broth, sage and lemon juice and, using wooden spoon, scrape browned bits from skillet. Return chicken and accumulated juices to pan and simmer until sauce is slightly thickened and chicken is cooked through, about 5 minutes. Transfer chicken to platter with potatoes. Whisk remaining tablespoon butter into sauce, season with salt and pepper, and pour over chicken and potatoes. Serve.