Prep 10 mins
Cook 20 mins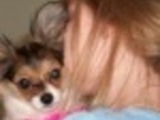 Most of my family members are not big breakfast eaters. In fact, its usually a fight to get them to stop for breakfast except when I cook this. We usually have this on weekends and they're all waiting around the kitchen until its ready.
Directions
Preheat oven to 425 degrees. In a large, heavy ovenproof skillet, cook the bacon over medium heat. Cook bacon until crisp, but not dark. Drain on a paper towel. Reserve 1/4 cup of the bacon drippings.
Place eggs in a food processor, and pulse blend until yolks are broken up. Add milk, nutmeg and salt and mix. Add flour 1/2 cup at a time. Blend after each addition.
In the skillet, heat the reserved drippings over medium high heat. The drippings should be very hot, but not smoking. Pour in the batter and spread it evenly over the bottom of the pan. Place the bacon strips over the top of the batter and place on the middle rack in the oven. Bake until puffed and golden brown, about 20 minutes.
Cut in wedges and serve with syrup poured over each serving.
Most Helpful
This is so easy to make. The only reason I give it four stars instead of 5 is that it is a little greasy. But the flavor is wonderful...and you need very little syrup to eat it. So good!