diner524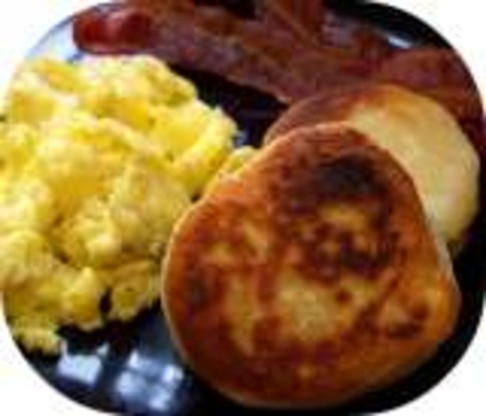 This recipe is more about the technique than the ingredients. I've added a bit more description since the first review. Making biscuits in a skillet rather than the oven is something I picked up from Joy of Cooking. It's a great alternative when you just don't want to heat up the kitchen by turning on the oven. Any rolled biscuit dough will do. NOTE: The texture may be a bit different when the biscuits are made on the stovetop, sometimes mine are a bit more dense than when baked, but they taste really good. I'm including the buttermilk biscuit recipe from Joy of Cooking, which is also wonderful and tender when rolled and baked. Yield is approximate, depending on the recipe you end up using.

My husband makes these on our camp stove when we go camping, to accompany scrambled eggs/bacon. He uses a cast iron skillet and cooks them in butter sprinkled with a little garlic powder. He covers the skillet with the lid while cooking and they rise up beautifully!
Mix together dry ingredients in a large bowl.
Cut in shortening or butter.
Add and lightly mix buttermilk.
Turn dough onto a floured surface and knead gently for 1/2 minute.
Pat the dough to a thickness of 1/4 inch.
Cut with a biscuit cutter (or knife, depending on what shape you like).
If you want to bake the biscuits, bake 10-12 minutes at 450.
For skillet biscuits:.
Cook the biscuits on a lightly greased hot skillet/griddle about 1 inch apart.
Use your best judgement as to the heat - I generally use a more moderate flame and brown biscuits 3 to 4 minutes each side, though the original recipe says to brown them for 5-7 minutes each side over high heat.
As mentioned above - the biscuits will not be light and fluffy like with baked biscuits - so don't wait for them to rise and be puffy. They will be more dense.
The best approach is to keep an eye on them and turn them when they are browned and dry-looking on one side before turning them over.