Skillet Baked Chocolate Chip Cookies
Prep 10 mins
Cook 25 mins
This cookie comes out soft and is great cut like a pie and served with vanilla ice cream ( or chocolate). Make sure you use an oven proof skillet, I use cast iron.
Directions
Cream butter and both sugars.
Sift together the flour, baking soda, and salt. Set aside.
Add the egg and vanilla to the butter mixture.
Add the flour mixture a little at a time.
Stir the chips and nuts in by hand.
Press into a 10 inch skillet and bake at 350 degrees for 25 minutes.
Most Helpful
I halved this recipe and used only 1/4 cup of butter. also, I opted not to add nuts. I used our smaller 6 1/2" cast iron skillet and it took 30 minutes to bake. Easy to make, fun to eat! :)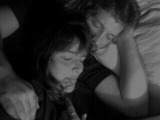 I love this muchly. Thank goodness for good strong [pant] seams.

Gracious sakes alive, I am still grinning after having a slice of this delicious cookie! I had with Vanilla ice cream and to me it's the ultimate! Doesn't get any better than this folks! Thanks for sharing Chef!