Skiers Swiss Cereal (Rainy Day Breakfast)
Debbwl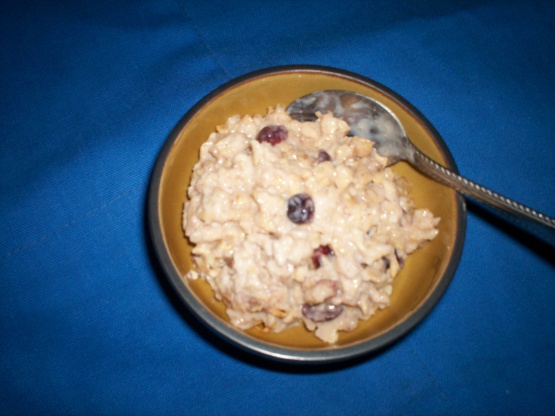 I found this in a Diane Mott Davidson mystery book. It is SO easy and flavorful, put it together the night before then cook it on the stove top in the morning. Never a big fan of porridge or oatmeal, this one changed my mind. I use all sorts of different fruit depending on mood and what is at hand. Apples, blueberries, or banana along with the mentioned dried cherries work perfectly. As do raisins and nuts. The sitting overnight lets the fruit flavor permeate the oats and milk and you end up with ambrosia. hmm coconut would be good to try it with as well. lemon or lime zest? the combinations to taste are endless. *runs for my pantry*

i love diane mott davidson also . kinda all the cozy mysteries . anyway this is easy and really good used raisins instead of cherries .make this its easy
The night before, combine the oats, zest, cinnamon, and cherries in a glass bowl. Stir well, then stir in the milk. Cover with plastic wrap and refrigerate.
In the morning, place the mixture in a medium-sized saucepan and bring it to a simmer.
Lower the heat and cook, stirring frequently, for 4 to 6 minutes, or until the oats are tender and the mixture is thick.
Serve immediately, either as it is or with brown sugar or granulated sugar, and cream, butter, or milk.