Skewered Steak With Vegetables
diner524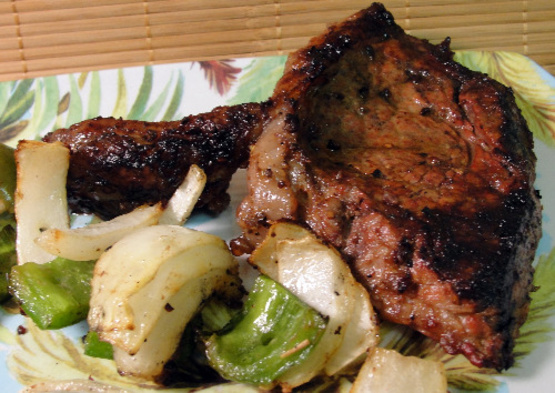 I love to grill, and even more, I love when the entire meal can be made outside! This is one of those meals.....of course, some rice or bread on the side would be nice, but you can make a full meal out of this. Feel free to switch out the veggies. I like to add onions, especially when the great Vidalias are in season. Prep and cook time does not include the 2 hour marinating time.

For this I had 1 1/4 pounds of Porterhouse steaks, that I cut up, which worked out excellent. I did make this as written, and believe me the marinade is out of this world delicious, and with the spices made for a nice quick late dinner. Made with some corn on the cob, that I put on the BBQ too, and would not change a thing in this recipe. A Top ten so for this year. Made for Rookie Tag.
Trim the excess fat from the steak, and cut it into 1-inch cubes. Place the meat cubes in a large shallow container. Combine the wine and the next 8 ingredients, stirring well; pour over the meat. Cover and refrigerate at least 2 hours, stirring meat occasionally.
Remove the meat from the marinade, reserving the marinade. Alternate the meat and vegetables on skewers.
Grill kabobs over medium coals 15 minutes or until desired degree of doneness. Turn and baste frequently with the marinade.