skat5762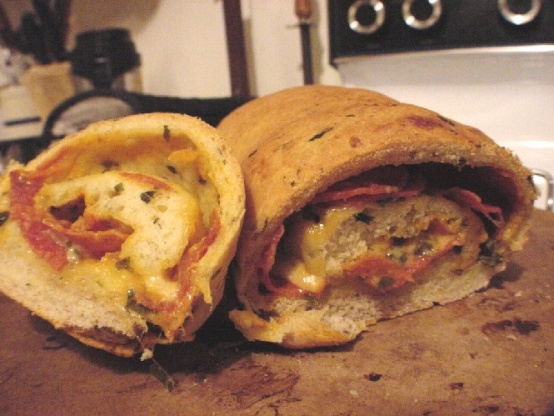 A great way to use leftover dough; an easy appetizer, or perfect anytime snack!

Really tasty and your idea to defat the pepperoni was spot on! Great Recipe!
1

fresh pizza dough (, I use s'kat's Easy Pizza Dough, storebought okay)

1

egg, lightly beaten

3

tablespoons fresh tomato sauce (, I use Andrea's)

3

cloves garlic, minced

2

ounces sliced buffalo mozzarella, well drained

12

slices pepperoni

5

leaves fresh basil, crumbled
Preheat oven to 375.
Place pepperonis on tinfoil in oven and bake for about 5 minutes, or until grease begins to come up.
Remove, drain, and pat dry.
Roll out dough into a rectangular shape.
Brush gently with egg.
Layer fresh tomato sauce, garlic, mozzarella, pepperoni, and basil onto dough.
Roll dough jelly-roll style, place onto baking stone and bake 35-40 minutes.
Remove and let cool 5 minutes.
Slice and serve.
Variations: Saute onions or scallions on stove top and add to filling.
Additionally, add mushrooms, pepperoncinis, tomatoes, or kalamata olives.