pharmd14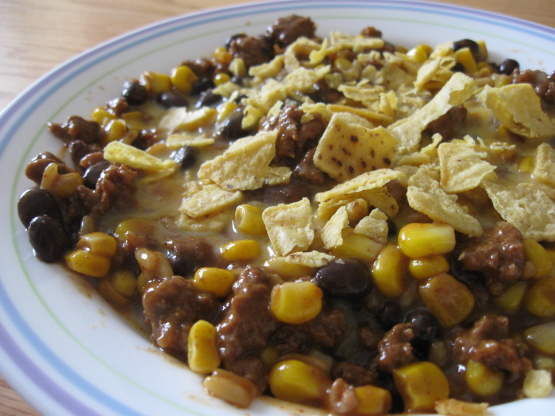 Made with common kitchen ingredients, this is Hamburger Helper on steroids! Even with the beans, this is a HUGE hit with kids. If you don't have Velveeta on hand, feel free to substitute shredded cheese or a jar of nacho cheese.
Brown ground beef and drain. Or if you are using chicken, cut it into dice-sized pieces and cook in a skillet over the stove top. For cooking chicken, sprinkle a little taco seasoning over the top for a great color and flavor.
Return meat to a large, deep skillet. Add hot water, 1 cup milk, rice, taco seasoning, cumin, and cayenne pepper.
Stir and heat on high to boiling. Once the mixture boils, reduce heat to medium-low and cover. Let cook for 20 minutes, stirring every 3-5 minutes.
Meanwhile, melt Velveeta in a microwave-safe dish according to box directions. Add ½ cup milk and stir well. Skip this step if you just plan on using store-bought nacho cheese or shredded cheese.
When skillet preparation is done, add black beans and corn. Cook on low for an additional 5 minutes.
Serve cheese and crushed chips over the skillet meal.
Enjoy!