Six Sisters' Slow Cooker Honey Sesame Chicken
Ninna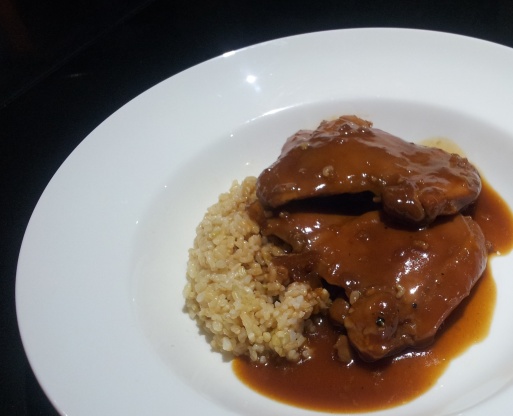 I found this on the Six Sisters' blog and had to try it. I can never get the sauce to thicken in the crock pot so I put the juices in a separate pan, add the cornstarch and cook it on the stove but I posted as it was written.

Top Review by Ninna
I found this recipe first on a blog. I had already prepared it and had it cooking in my crockpot when I decided to see if someone had submitted it to Food.com. I was interested in looking at reviews to see how it turned out as I rarely have success cooking chicken in the crockpot but I really wanted to try this. It is a great recipe and success at last with cooking chicken in the crockpot, this was not dry, nor did it have a strange texture, it was delicious and I will certainly make it again and again. I made it with a little less honey and replaced half the oil with sesame oil and added 1tbs grated ginger. I used thighs and served it with brown rice and sadly I forgot the sesame seeds. My crockpot seems to cook fast and I found it had cooked perfectly on low for 4hours. I will certainly make this again, it was easy and delicious. Thanks especially for the hint on thickening the sauce Lioness, it certainly was not going to thicken in the crockpot.
Season both sides of chicken with lightly with salt and pepper, put into crock pot.
In a small bowl, combine honey, soy sauce, onion, ketchup, oil, garlic and pepper flakes. Pour over chicken.
Cook on low for 3-4 hours or on high 1 1/2 – 2 1/2 hours, or just until chicken is cooked through.
Remove chicken from crock pot, leave sauce.
Dissolve 4 teaspoons of cornstarch in 6 tablespoons of water and pour into crock pot. Stir to combine with sauce.
Replace lid and cook sauce on high for ten more minutes or until slightly thickened.
Cut chicken into bite size pieces, then return to pot and toss with sauce before serving.
Sprinkle with sesame seeds and serve over rice or noodles.
You can also sprinkle more red pepper flakes on top if you want more heat.