Six Minute Soft Centred Chocolate Puddings
loof751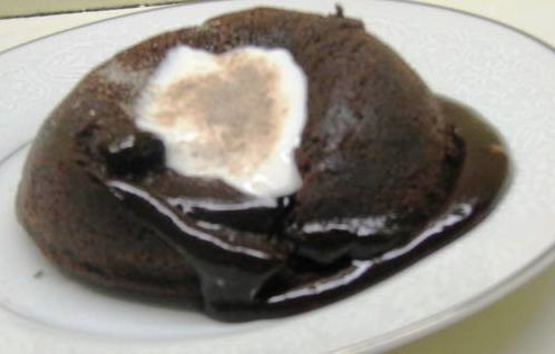 Ainsley Harriott says "take them out of the fridge as soon as your guests arrive, so that they return to room temperature, and as you clear the table after the main course, just slip them into the oven for a truly fabulous chocolate treat. You can also use the left over egg whites to make hazelnut meringues. I just put it in small pudding bowls, bake and serve it in them! Saves on the hassle!
Preheat the oven to 230°C/450°F/Gas 8. Break the chocolate into a heatproof bowl set over a pan of simmering water. Add the butter and leave to melt.
In a separate bowl, whisk the eggs, yolks and sugar until thickened. Whisk in the melted chocolate mixture, then sieve over the flour and quickly fold in .
Divide the mixture between six buttered moulds or ramekins. Bake the pudding for 6 minutes until the outside is set but the centre is still soft.
Turn each pudding on to a plate, then gently lift off the moulds. Place a spoonful of crème fraiche on top of each pudding and dust with cocoa. Serve immediately.