Six Can Chicken Tortilla Soup
Ms B.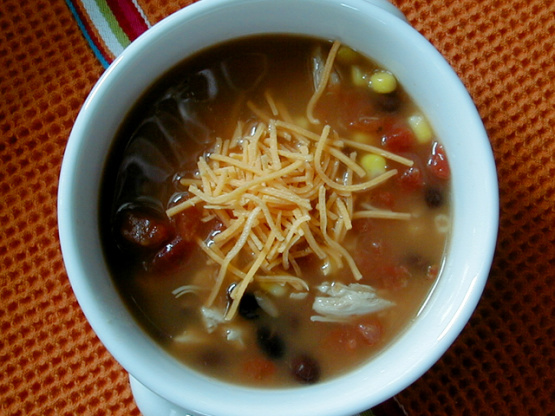 I got this off another site but I've made it many times and it is SO versatile. Muy facil y bueno! (Very easy and good:)!! No its not authentic but who cares?

Top Review by Ms B.
I found this recipe on another site and have been making it for about a year now. I do not add the rice. I also rinse the beans prior to adding them in order to reduce some of the sodium content. Other changes include: using frozen corn instead of canned (I just don't like canned.); omitting the garlic and adding cumin; sometimes adding sauteed onion and green pepper; using shredded grilled chicken breast instead of the canned chicken. I have also used tomatoes with jalapenos instead of green chilies. That was a bit warm for my taste. Therefore, I toned the heat down by stirring in a little cream. This soup is excellent topped with crushed tortilla chips and shredded cheese. Great easy and quick meal for busy days. I like it served with corn muffins.
Open the cans of corn, chicken broth, chunk chicken, black beans, and diced tomatoes with green chilies.
DO NOT DRAIN!
Add rice and garlic to this as well.
Pour everything into a large saucepan or stock pot.
Cover!
Simmer over medium heat until chicken is heated through& rice is cooked.
(5 minutes for instant rice).