Siu Mai or Siomai (Dim Sum Dumplings)
SonnyHavens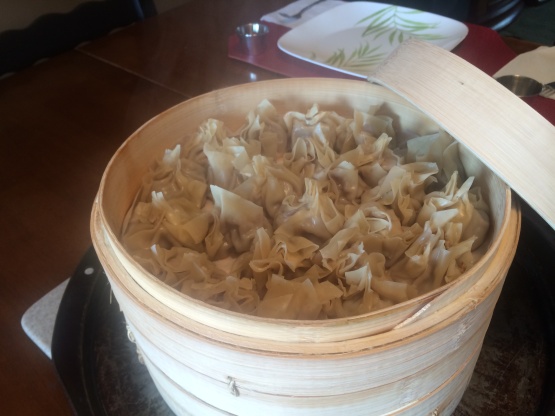 Siu mai or Siomai are steamed dumplings but with an open top. They're just so delicious that every time I go to Chinese restaurants or take out, expect me to order this as an appetizer. My Mom/sis used to prepare this as well and is good served with a dip of soy sauce mixed with any of these: calamansi/lemon/lime/kumquat. Now that I have to make it, there are times I opt out on the water chestnuts since I don't have them but it hardly changes a thing. :D Serving size really depends. Sauce recipe: 1/4 cup soy sauce and 1 tsp lemon or lime or calamansi or kumquat.

Tasty and delicious. My DH picked out this to make when we were picking recipes this month. We all loved them. Made for OZ swap OCT 2009.
Mix everything together thoroughly except the wonton wrappers.
Place a tablespoon of the mixture at the center of each wonton wrapper on top of your palm. Gather the edges around it, pleating it as you go, making an open flat top. Repeat with others.
Meanwhile, prepare the steamer by boiling water underneath it and oiling the racks.
Arrange the dumplings on top of the racks 1/2 inch apart and steam for about 15 to 20 minutes.
Serve with soy sauce or chili paste (if you want it hot).