Ms B.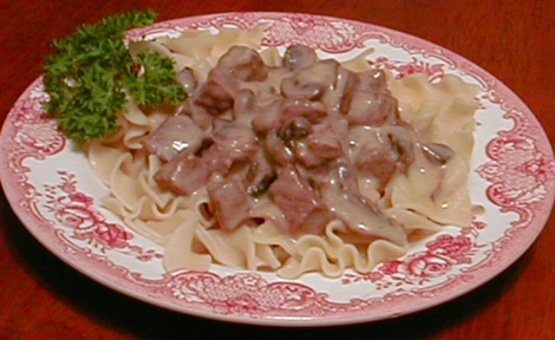 Serve this over a bed of hot buttered noodles. YUM!

WOW!!!!!! This was excellent!!!!!! The meat was so tender and the mustard added a wonderful flavor!!! I had thought this would be like a stroganoff but the mustard and soy sauce gave it a completely different flavor. I think I will be serving this alot this winter!!!!!!
Brown the meat in butter and oil in a lg skillet.
Place in a 2qt baking dish.
In the skillet, saute mushrooms and garlic for 2 minutes.
Pour all over meat.
Cover and bake at 325* for 1-1/2 hour or until tender.
In skillet, mix broth, vinegar, and soy sauce; bring to a boil.
Boil for 2 minutes.
Mix mustard, cornstarch and cream, stir into broth mixture.
Bring to a boil; boil for 1 minute, stirring constantly.
Drain juices that have accumulated around the beef into broth mixture.
Cook on med heat, stirring, until bubbly.
Add the meat, mix well.